Join us to celebrate the colourful and feel-good world of illustrator David McKee.
This exciting exhibition from Seven Stories, The National Centre for Children's Books, takes you on a journey into the imagination of the creator of classic books and characters including Elmer the Patchwork Elephant, Mr Benn and Not Now, Bernard. McKee has been awarded Illustrator of the Year 2020 and was recipient of the Book Trust Lifetime Achievement Award. Elmer, one of the most widely-read books of all time, is about celebrating our own true colours. The exhibition includes special reading spaces to pour over these favourite stories, as well as the opportunity to explore Elmer's jungle and, as if by magic, to enter Mr Benn's costume shop. Or simply immerse yourself in the visual feast of original illustrations, many on display for the first time.
Free entry
Why not try our Elmer inspired activites using the worksheets below.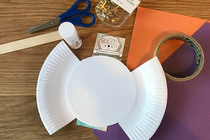 (PDF, 2.55 MB)
Create and decorate your own Elmer by ripping and sticking colourful paper or simply use colouring pencils.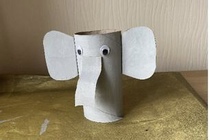 (PDF, 1.2 MB)
Make your own 'Trunk the elephant' and bring them along to Cooper Gallery for an adventure with Elmer and friends.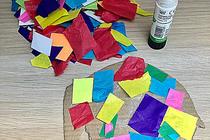 (PDF, 3.72 MB)
You can use recycled cardboard to make a colourful 3D elephant collage.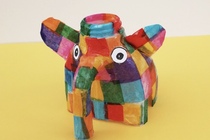 (PDF, 1.21 MB)
Create your own mini Elmer using a milk carton and tissue paper. Why not save future bottles and create a herd of Elmers!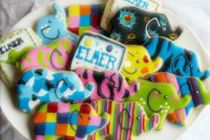 (PDF, 1.85 MB)
Make this simple tasty biscuit using just three main ingredients. Contains milks and gluten. Check individual ingredients and sprinkles for allergens.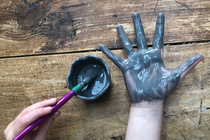 (PDF, 2.09 MB)
Sensory seeking children will love the feel of the paint on their hands. If a child doesn't like sensory input then simply draw around their hand, cut it out and let them decorate as they like.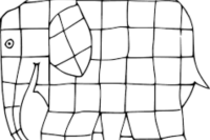 (PDF, 4.46 MB)
Explore and find colours that match Elmer's patchwork pattern. Use the template to help you spot the exact colours and create a mini concertina book.
Jungle Juggle Wiggle Online Dance Workshop